I am just popping in to wish you a very Merry Christmas!!!! Wishing you lots of Laughter and Joy, great time spent with your loved ones, whether it's family or friends. I made a special card yesterday with some new
My Favorite Things
goodies, which I was dying to get my hands on. I even used this weeks
MFT sketch
. Hope it puts you in festive mood, just like it put me in, as I was making it.
For my card I used the following MFT products:
The papers I used are by Pink Paislee, their City Sidewalks collection. Just as a little note, in case you like the way the pretty Winter Rose looks like, I die cut it with white papers and painted it in with Distress inks. I used Festive Berries, Old Paper, Vintage Photo, and Crushed Olive for the leaves.
So, what's up with the eggnog in my title, you say? LOL....well, this year we went on a hunt to find the best store bought eggnog, so this past week we sure have had our share of eggnog, or as I call it "noggy"....LOL...sounds so much more fun, than eggnog, don't you think?
I first went to my trusty Trader Joes as I remembered about 2 years ago we bought theirs and it was pretty good. It was good, but our friend and fellow noggy taster said she used to buy the Alta Dena brand and it was better. So we ran out of the Trader Joes one and headed to our neighborhood grocery store called Ralphs (they are a chain in Southern California) and can you believe they had a whole eggnog section?? Oh my goodness.....I thought we were in heaven.....LOL...as you can tell I do love eggnog...LOL.
Anyway, we found a few brands and even different flavors? Who knew they came in flavors? Well, I sure didn't as I didn't have eggnog last year. So, we got two brands that seemed promising. One was a regular eggnog from Broguiere's Farm. When I say regular, I mean no fancy flavoring, but don't let that fool you. This is by far the BEST noogy on heaven and earth!!! It's thick as it should be, just enough egg taste and sugar, it's simply the best ever eggnog....we are definitely in LOVE!!!!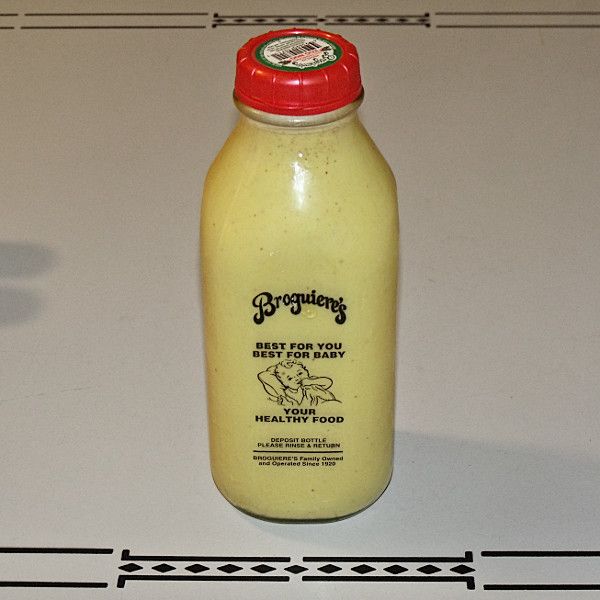 The other one was a Gingerbread flavored Eggnog from Hood. They sure have a lot of different flavors! Check them out, although this picture doesn't have the Gingerbread flavor. I have to say this is our second favorite. It's thick enough and boy, the gingerbread flavor is out of the world yummy....haven't tried the regular flavor, but I am sure that's pretty good, too. Something tells me, we will be trying the regular one soon, too. :)
Since then, I also picked up the Alta Dena Honey Sweetened one. Didn't like it....it was liquidy and too sweet, and somehow they missed out on the eggnog flavor, as it didn't even taste like it. I also bought the Bolthouse Light eggnog. If you are looking for a light eggnog, I'd say go for that one, but if you want the real thing, stick with Broguiere's Farm's if you can find it. Well, that about sums up my eggnog story. I have been baking all day today, and still finishing the last batch of cookies. I made Oatmeal Scotchies, Snickerdoodles and finishing up my ex MIL's ginger cookies. I loved her dearly, so we will always remember her when we eat these cookies. It's my son's favorite for sure.
Well, wishing you a beautiful Christmas! Hug your loved ones and enjoy every minute of the holiday!!! Sending you lots of LOVE and big HUGS from my house to yours!